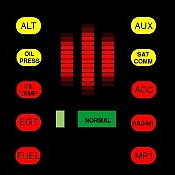 K.I.T.T. and K.A.R.R. both appear to talk by means of a Voice Synthesizer which speaks through a Voice Modulator, or voice box.
Specifications
Set in the dashboard, the graphical display would flash in time with the sounds created by the onboard AI.
Trivia
Originally, K.I.T.T.'s voicebox was a flashing red square. However, this was changed in Hearts of Stone to the three vertical bar design originally seen in K.A.R.R.