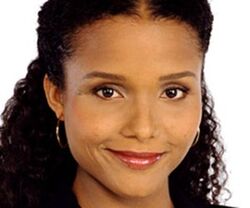 Sydney Tamiia Poitier (b. 15 November 1973), is an American actress who portrays Carrie Ruvai in the 2008 Knight Rider movie.
Background
She is the youngest daughter of actors Sidney Poitier and Joanna Shimkus. Poitier received her Bachelor of Fine Arts degree in acting from New York University's Tisch School of the Arts.
Other Roles
Sydney Poitier most recently appeared in "Death Proof" Quentin Tarantino's portion of Grindhouse. She played the lead on the TV series Abby, and had regular roles on First Years, Joan of Arcadia, and Veronica Mars. She has made guest appearances on Grey's Anatomy and The Twilight Zone. She also acts in theatre.
External Links