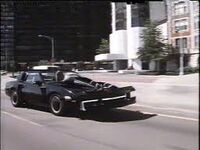 The Super Pursuit Mode, or SPM in short, is one of four modes K.I.T.T has, involving a transformation to make K.I.T.T. more aerodynamic and quick.
The "Super Pursuit Mode" was first conceived and created by Reginald Cornelius III, better known as RC3 and Bonnie Barstow.
Notes
This mode is considered as exaggerated by some people.
In reality, the numerous retractable spoilers and air inlets of the mode would lead to increased drag, thus making K.I.T.T. slower rather than faster.